Fourth Grade Weirdo
by Martha Freeman
An adorable book about a order loving young boy who ends up in the classroom of a creative teacher. I loved the interactions between Dexter, his teacher, Mr. Ditzwinkle, and his classmates.
Are you like Dexter? Do you love math, straight lines, and schedules? Or are you more like Mr. Ditzwinkle? Do you love creative projects? Can you stand on your hands? I think I am a mixture of the two. I can be completely OCD about a lot of things, but I love to share great ideas. Great read, good vocabulary, awesome character development, and a fun mystery.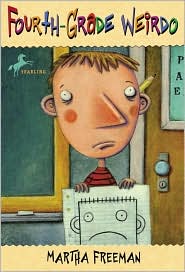 Have you read this book? What did you think? Do you have a favorite part?
Stay tuned. Next on the reading list is Tales of a Fourth Grade Nothing
by Judy Blume.